One of my Facebook friends on animation groups did a blog post last year about the evolution of the Bugs Bunny walkaround/mascot costumes through the years. So I thought with the announcment of the impending creator/cartoonist-driven Looney Tunes shorts Warner Bros. Animation will be doing soon, I'd do a similar post but involving my favorite Looney Tunes character, Wile E. Coyote!

The earliest I've known of there being a mascot/walkaround version of the character was for 1972, for that Warner Bros. Jungle Habitat theme park...


Pretty weird, huh? Wile E. has kind of a drowsy look and his tongue is hanging out.

A variation of that costume was also used for the "Bugs Bunny Follies" live shows in 1977-1982...


You still have strange eyes and the tongue hanging out, not to mention his muzzle being colored different from his cheeks!

In 1976, the Looney Tunes began appearing at the Great America parks. Wile E. Coyote got a slight facelift as part of it, but he still looked so weird!


The body looks good, but that head is mondo bizarro! Look at those tiny eyes, the really small cheeks, and the eyebrows being colored differently.



A slightly revised version from the early 1980s. The head still looks pretty weird, with the strangely-colored muzzle, small cheeks, and those eyes.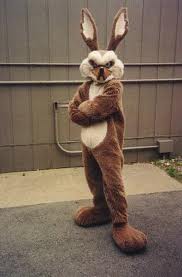 Not the best photo, but here's another shot of that bizarre Wile E. Coyote. During the 80s, Six Flags acquired one of the Mariotts' Great America parks, and began having the Looney Tunes appear at their amusement parks as well, and still do to this day. Some Six Flags parks kept this strange Wile E. Coyote suit as late as 1994-1995! The photo there was taken in 1994, with a fursuiter I know in the costume.

Around 1989 (I think), Scollon Productions began making more decent-looking Looney Tunes costumes, most likely to tie in to Bugs Bunny's impending 50th birthday celebration, something they made a really big deal out of! Wile E. Coyote got a makeover as well...


It's a lot more on-model now, though it's also a bit exaggerated too, like those giant pupils. In a way, it also reminds me of how Wile E. Coyote appeared in those cheap and freakish Rudy Larriva-directed Road Runner cartoons from 1965-1966.
This new Wile E. was used for many promotional events and appearances, and gradually began appearing at different Six Flags parks, soon being at all of them by the mid-to-late 90s.

Which brings us to around 2000-2001, when Scollon Productions began updating most of the Looney Tunes character costumes to look even more on-model...


This one's easily the best of the bunch. It looks the most Chuck Jones-esque out of all the ones I've shared here, down to the small details. It's the most accurate representation of our favorite super genius coyote I've seen, and I've heard is pretty comfortable to wear, but vision is rather tricky as you see out of the mouth. This photo, along with the next few, comes from when my late friend Rapid T. Rabbit performed as Wile E. for a Time Warner Cable gig in 2002.



In the 2000s, Holiday on Ice had a Looney Tunes ice show that toured in foreign countries,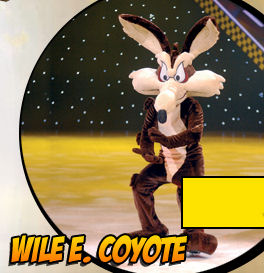 You can tell it's apparently based off the early 2000s Scollon Productions costume, but it's designed so that you see out of the eyes for much better vision due to wearing it while ice-skating. The eyes are given white sclerae instead of the correct yellow, and as a result the head looks a tad off. But it's still not a bad likeness.

And speaking of international Looney Tunes live shows, in 2012-2013 there was a live stage show based off "The Looney Tunes Show" TV series. You may recall, the Looney Tunes characters were redesigned in that show to look a bit more "modern", and Wile E. Coyote was no exception...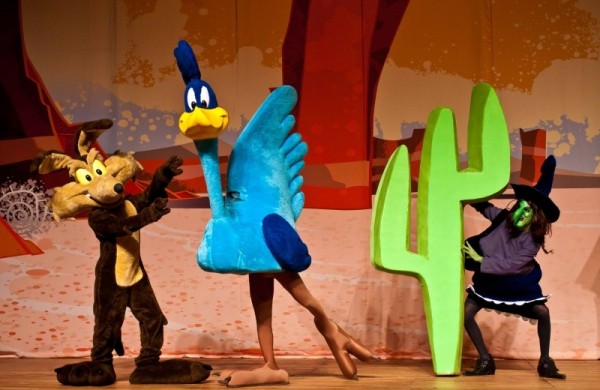 At least it's a pretty good likeness, still. In a way, it's almost more like a cross between the classic design and the newer Looney Tunes Show version. But did they have to make the Road Runner so BIG?


The Road Runner costume from Scollon Productions isn't as big either, but it's still super awkward! (The actor is in the tail, and operates the Road Runner's head and neck via a rod.)

At least there isn't a costume likeness of the weird Wile E. Coyote design from "Wabbit"/"New Looney Tunes!"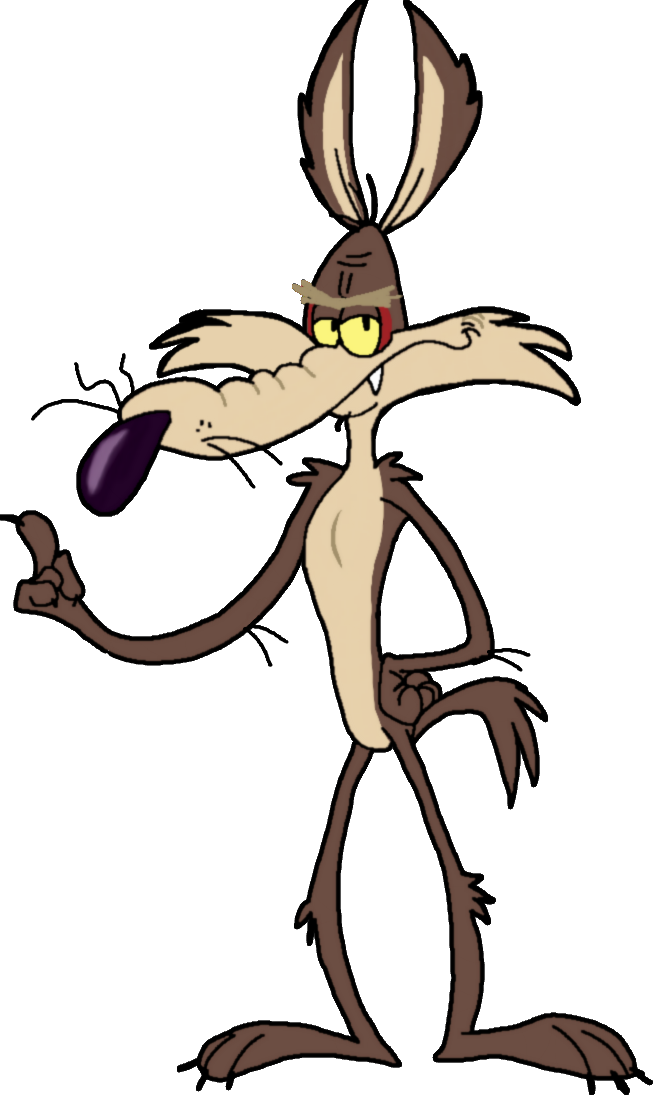 This probably would be rather difficult to translate to fursuit/costume form! Look at that head shape!

And of course, you know I already have a pretty decent Wile E. Coyote costume currently, ma
de from combining the Spencers' adult Wile E. hoodie footie-pajama/kigirumi suit with the official latex Wile E. Coyote mask Illusive Concepts made in the 90s!


Yep, just an amusing take I did on a "Fairly OddParents"-inspired meme where I reference the Annie Awards frequently snubbing the Looney Tunes...