The Chinese New Year has come, and this Lunar year, it's the Year of the Pig! So I thought I'd commemorate this with an appropriate type of post I'd do. I mentioned a year and a half ago that I LOVE parodies of Chuck E. Cheese's. TVTropes has a great list of them, on their appropriately-labeled trope "Suck E. Cheese's." Well, "Rugrats" had a pretty fun one during their fifth season, which was right before Dil was born and the franchise jumped the shark. The episode is titled after the Chuck E. Cheese's parody the characters go to... Piggy's Pizza Palace!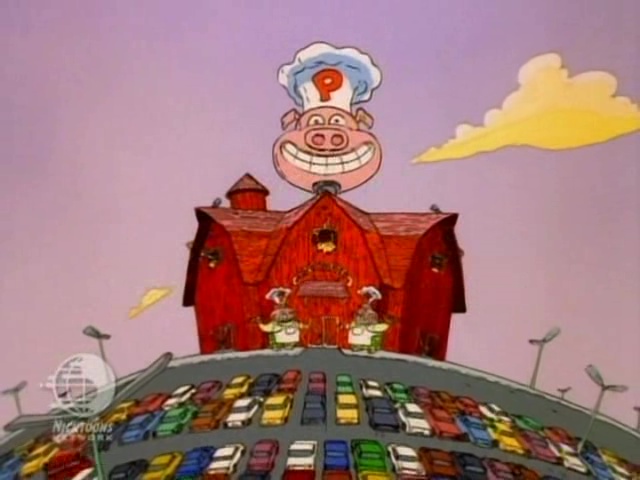 Of course, it's got a barnyard theme to it, since their mascot is a pig. As Stu and Drew Pickles try to find a parking space, they converse how they recently installed a new animatronic stage show and a new Reptar pinball game! Of course, they brought Tommy, Chuckie, Phil, Lil and Angelica to the place. Tommy calls the barn "Piggy's house," but Chuckie is somewhat nervous.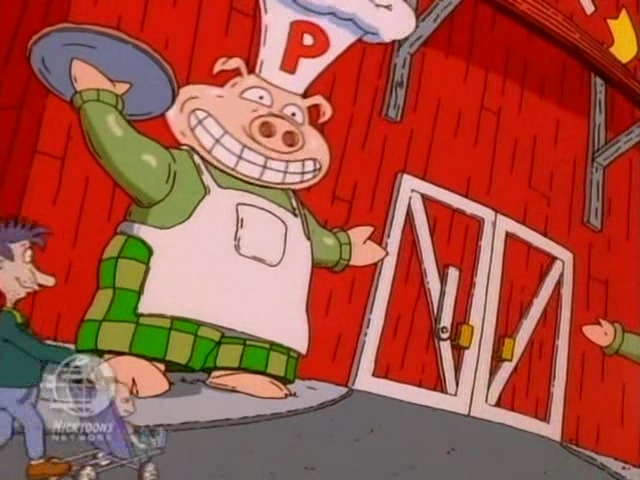 This Piggy animatronic greets customers entering the restaurant: "*oink* Hey there, folks! I'm your old pal Piggy. Come on in and pig out on pizza! *snort, oink*"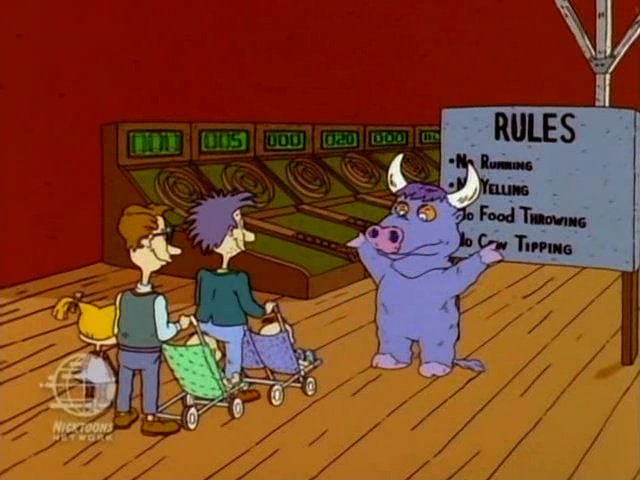 Naturally, inside it's like a Chuck E. Cheese's built in a barn. The characters are greeted by costumed character Ringo the Bull. Unlike in real life, these mascots actually talk to the customers! He gives a friendly reminder to follow the rules; I especially like "No Cow Tipping."



Angelica's been saving up prize tickets so she can exchange them for a Cynthia Driveaway Dream Car to go with her beloved Cynthia doll. So Drew gives Angelica money to get tokens for the arcade games.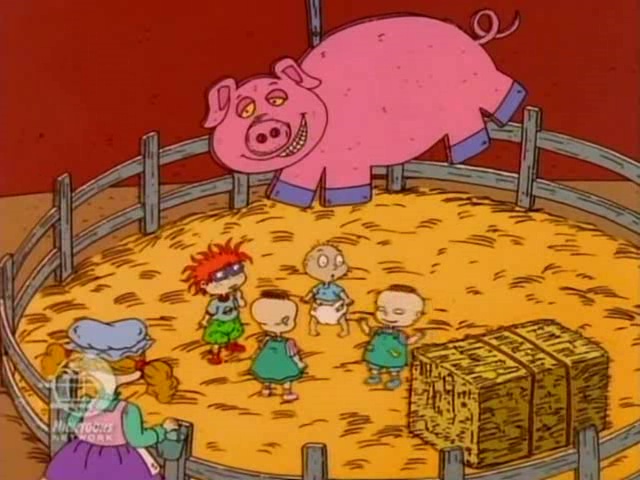 The babies (though Chuckie is technically a toddler) are placed in the Piglet Farm, a playpen for very young children with actual hay! Phil likes to eat the hay, seeing it as "cow food!"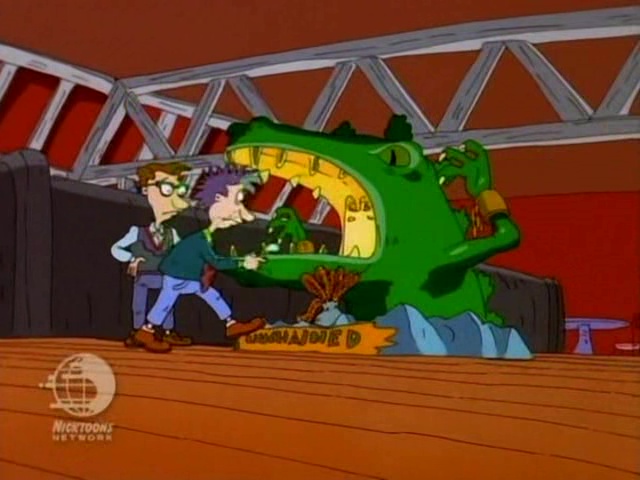 And of course, Stu and Drew go off on their own to play the Reptar pinball game and forget about the kids, being the lousy parent manchilds they are.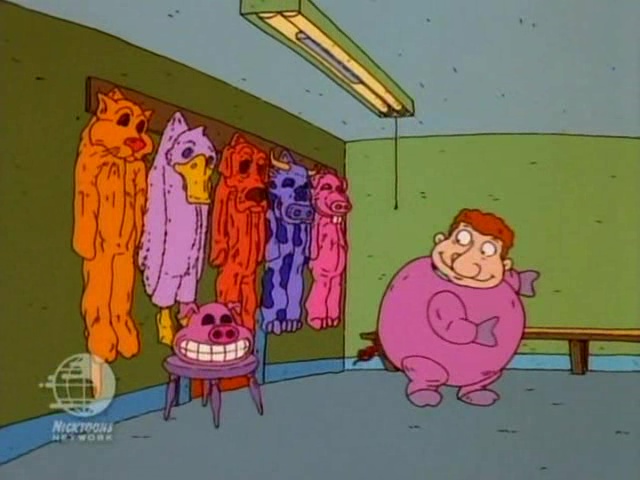 A scene backstage, where we get a costumed character performer who actually enjoys his job for a change!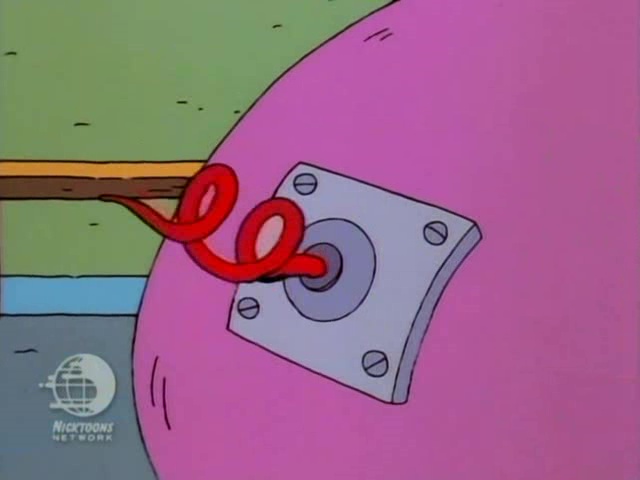 The Piggy suit has a mechanical rotating curly pig tail!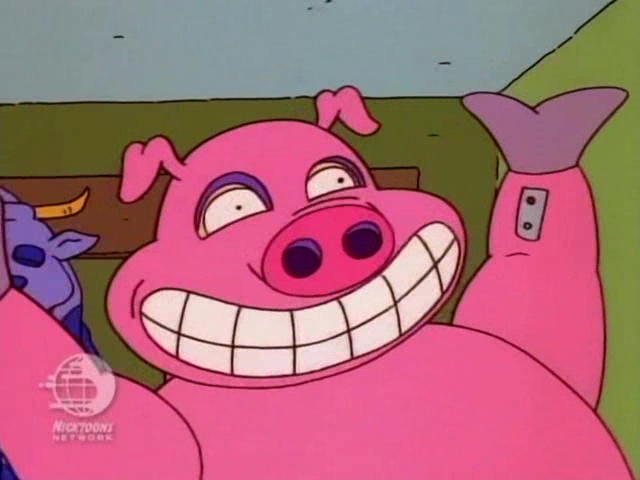 The performer says "Okay kiddies, it's showtime!", puts on the Piggy mask and goes out onto the floor...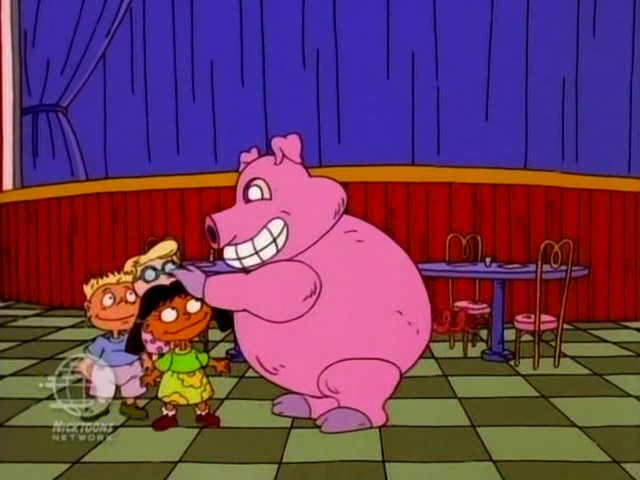 The Piggy performer enjoys making kids happy, very much like when I am K-O for the Brockton Rox.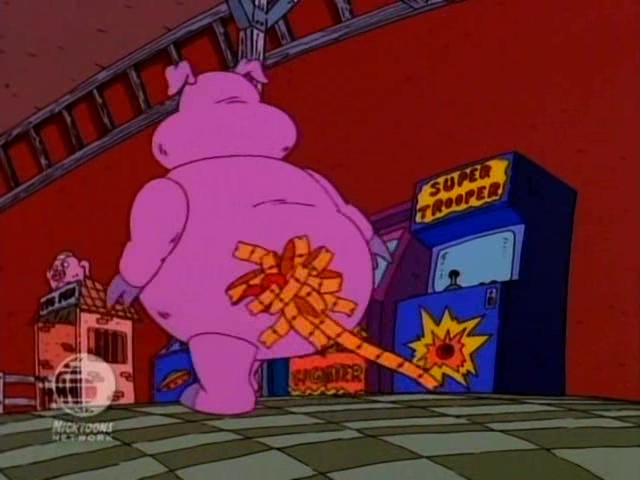 But the prize tickets Angelica won at the arcade games get caught on Piggy's curling tail when she swirls them around in glee, and Piggy is oblivious to this. Angelica, being the b**ch she is, yells "Hey you dumb pig, come back here!", runs after him...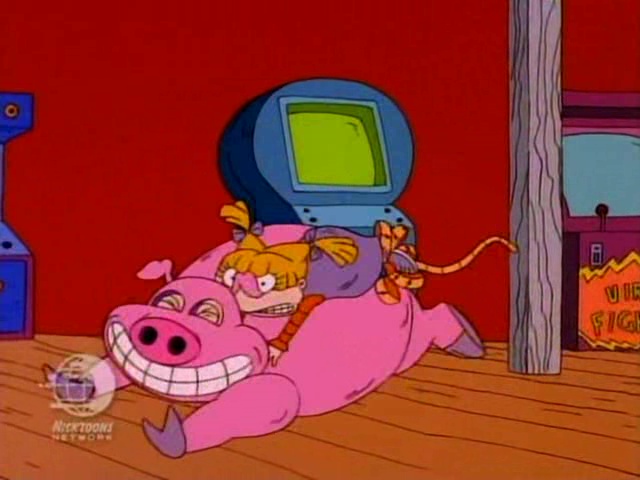 ...and pounces on Piggy with a "HI-YAH!"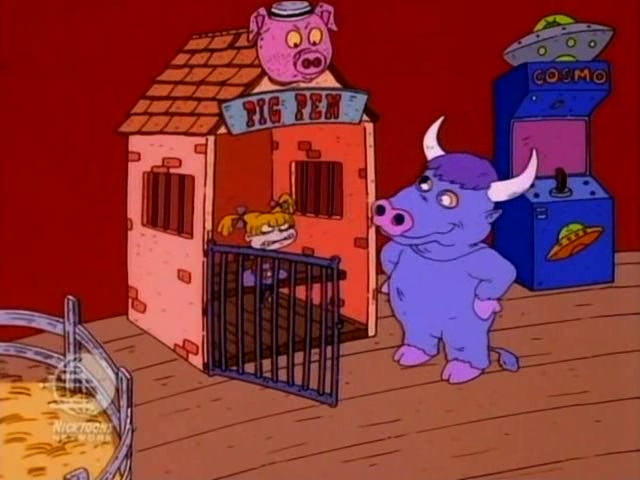 But Ringo the Bull takes Angelica and sentences her to ten minutes in the Pig Pen, a time-out area for misbehaving kids. He reminds Angelica, "Sorry kid, you know the rules. You gotta do ten in the Pig Pen if you get rough with Piggy or his barnyard friends." Angelica cries, "But it wasn't my fault!" as the gate locks.

The babies agree with Angelica on this, with Chuckie saying he knew Piggy was trouble. So they decide to get the ribbon of tickets back for her, and get out of the Piglet Farm playpen easily since Stu and Drew are too occupied with the Reptar pinball game.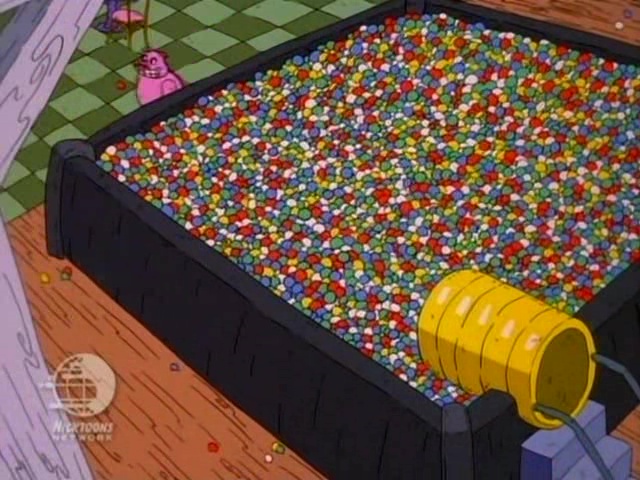 The babies attempt to follow the now-limping Piggy through a ballpit that they literally swim in, though Chuckie nearly "drowns" in the plastic balls.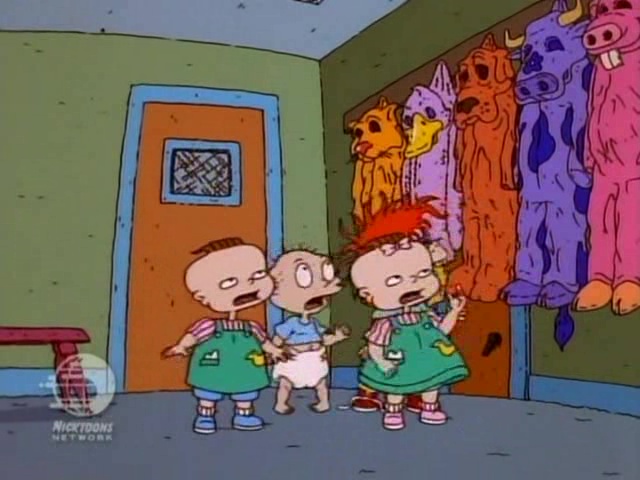 Then the babies go through an employee doorway they saw Piggy disappear into, and find empty animal mascot costumes hanging on hooks.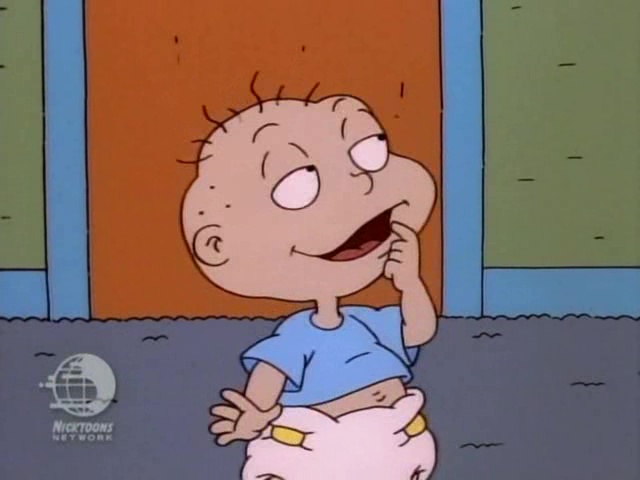 Naturally, they think the animals are real, even if no one is wearing the suits. Tommy cooly tells the "fluffy guys" that they are looking for Piggy.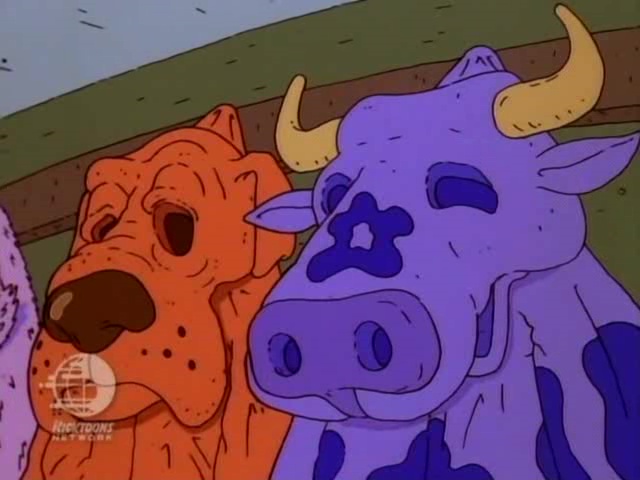 When the babies get no response, Tommy figures it's because they're animals and so they can't talk. So Phil cooly says "Woof woof, mooooo" to the dog and cow costumes.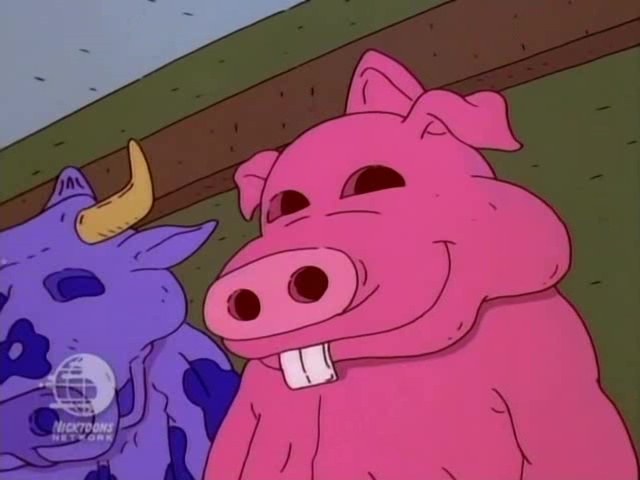 Lik says to the pig suit "Oinkity oinkity!" I'm guessing the franchise has more than one pig character.



Chuckie looks up at the duck costume and uncertainly says "Quack, quack, quackity-quack."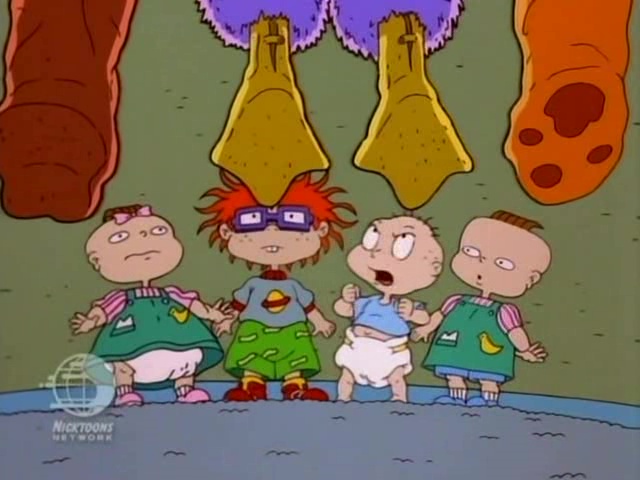 Tommy then says mock Yiddish to the dog suit! When this earns him looks from his friends, Tommy explains that his grandpa Boris always says that to his dog Spike. But it still doesn't work.



The babies find a small door in the wall that leads to underneath the animatronic stage. Chuckie doesn't like how dark it is, so Tommy pushes a random button, thinking it's a light switch, but it ends up also turning on the animatronic show!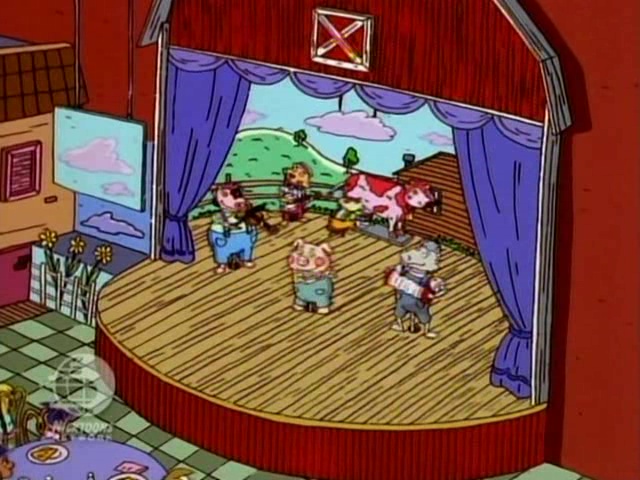 The animatronic show in action. Naturally, it involves Piggy and his barnyard buddies playing bluegrass-style music. This puzzles Ringo the bull, as he says to himself the show's not supposed to start for another three minutes.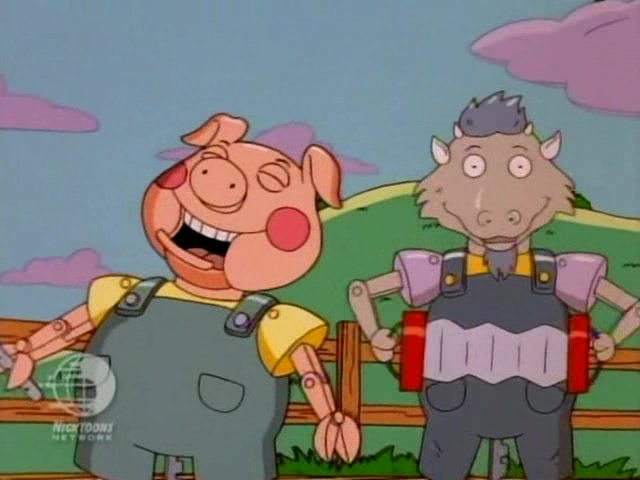 As a kid I remember finding these bots way more animated than the robots at the real Chuck E. Cheese's restaurant that used to be in my hometown of Brockton MA. Though that could be because our location had animtronics made by Cyberamics, which aren't that fully-animated (for you Chuck E. Cheese fans, it was a 2-stage setup with Munch's Make-Believe Band.) Perhaps the "Rugrats" creative team had the animatronics from the 3-stage Chuck E. Cheese's setups in mind, which were more animated, and were originally the Rockafire Explosion when those locations were Showbiz Pizza, sister store to Chuck E. Cheese's, until legal complications led to those Rockafire Explosion setups being converted into Munch's Make-Believe Band.
The tots under the stage hear Piggy's voice and decide to go up the stairs to the stage. Phil, knowing to save energy, turns off the "light switch" and powers down the stage show, confusing Ringo even more. All the while, Stu and Drew are still totally engrossed in the Reptar pinball game and have completely forgotten about the kids, as usual.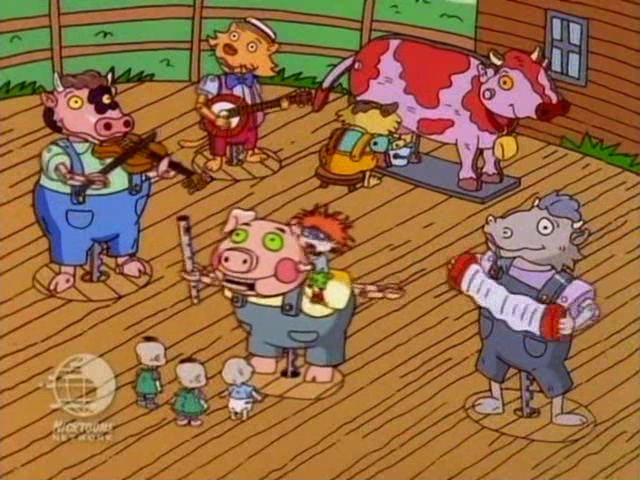 Since Chuckie's the biggest, he's chosen to climb up to get to Piggy's pocket and find the ribbon tickets. But as he does so, Lil leans against an off/on lever and starts up the show all over again, to Chuckie's horror! A father and his daughter watching the show and eating pizza are surpised by it, and the girl initially thinks the babies are animatronics as well, but when noticing they're real, runs off wanting to be on stage too.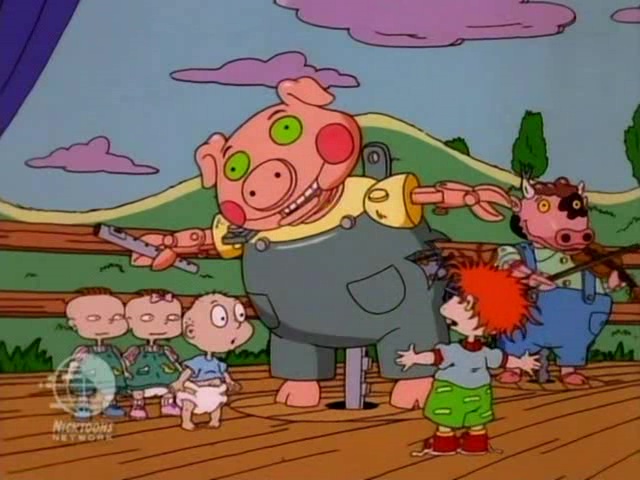 But Chuckie ends up accidentally breaking the Piggy animatronic in his scuffle, and Tommy realizes it's not the real Piggy; "it's just a robot!"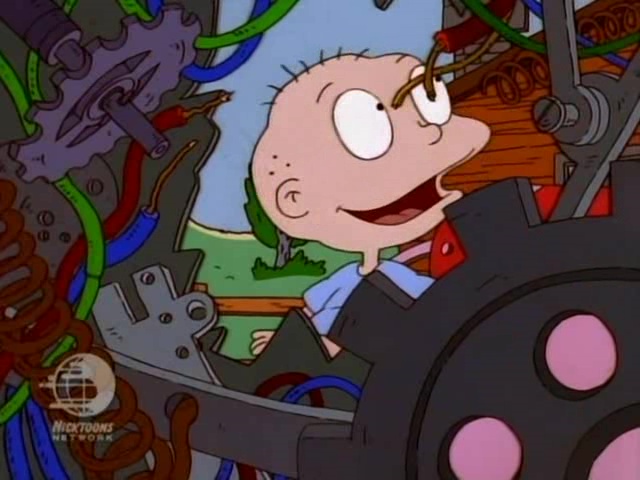 Tommy points out the Piggy robot is full of "metal stuff." (Phil says the real Piggy would be full of pizza!) So they set out to find the real Piggy. It's stuff like that that is partly the reason the real Chuck E. Cheese's restaurants are gradually doing away with the animatronics, since they can be suspect to vandalism from rowdy/curious children or punky adolescents, or in stores with a 3-stage setup, disgruntled fans of the Rockafire Explosion still bitter over the "concept unification" I previously mentioned!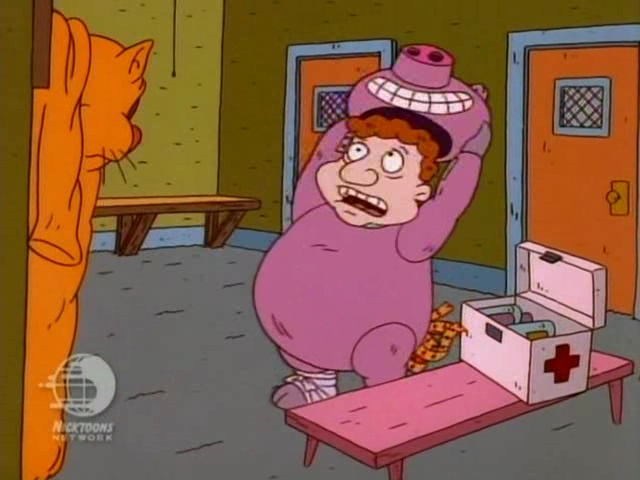 The Piggy actor is applying first aid to his foot he hurt in Angelica's attack, still oblivious to the ribbon of tickets on his curly tail. He hears the Piggy animatronic breaking down, says "Sounds like trouble," puts the mask back on and goes back onto the floor, back in character by chuckling and snorting.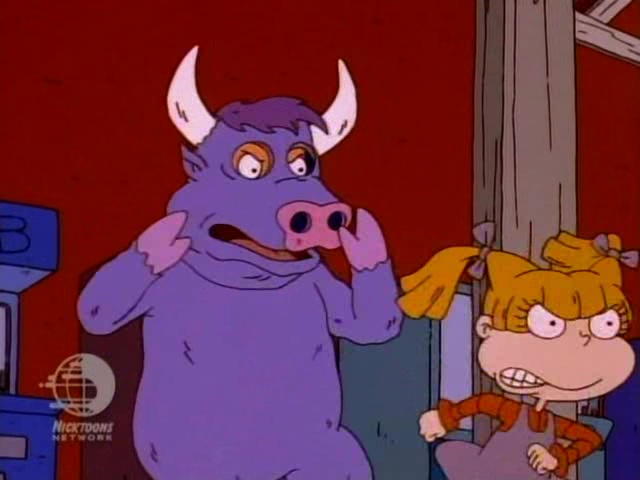 Angelica has also ended up getting out of the Pig Pen when it unlocks due to the malfunctioning animatronic show, and sets out to get her tickets back. Ringo says "Oh no, how'd you get out?" and tries to grab her, but misses. I like how the mouth opens a bit when he lunges toward Angelica, as the costumed characters' masks are not expressive here, unlike the "Reptar on Ice" costume and mask!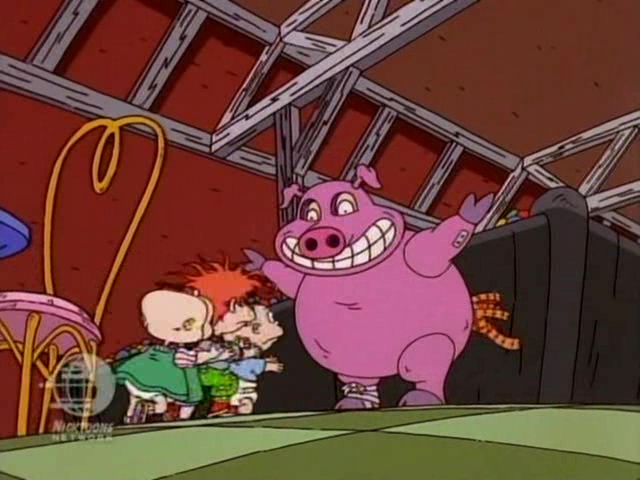 The babies approach Piggy, and caught up in his job he thinks they want to be hugged and played with, saying "Aww, these kids do love me, don't they?"



But the babies jump up and pounce on Piggy, and his rotating curly tail tears a hole in the wall for the ballpit as he falls backward, causing colored plastic balls to spill everywhere!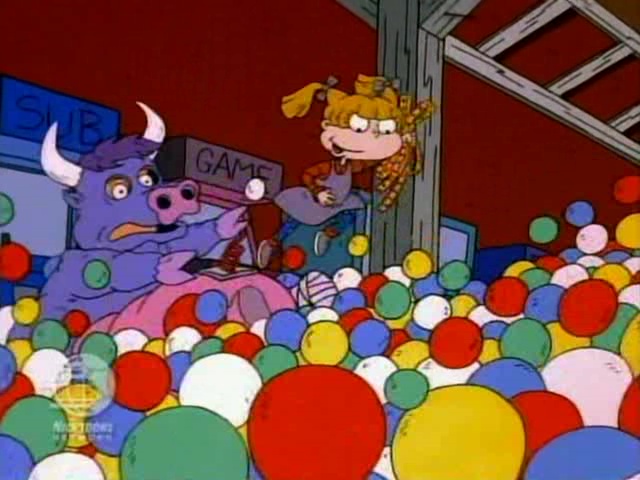 Angelica grabs her tickets from Piggy and happily rides on the tsunami of balls, while Piggy rams into Ringo...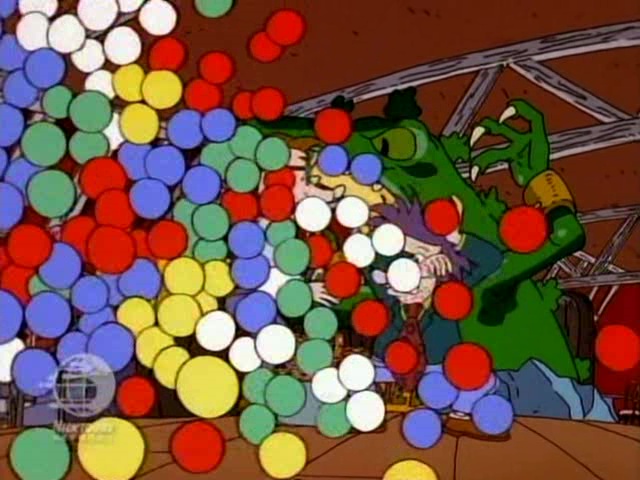 And of course, the balls avalanche onto Stu and Drew, finally seeing that the babies had wandered on their own again! The tots ride on the balls, making their happy stock vocal effects except Chuckie.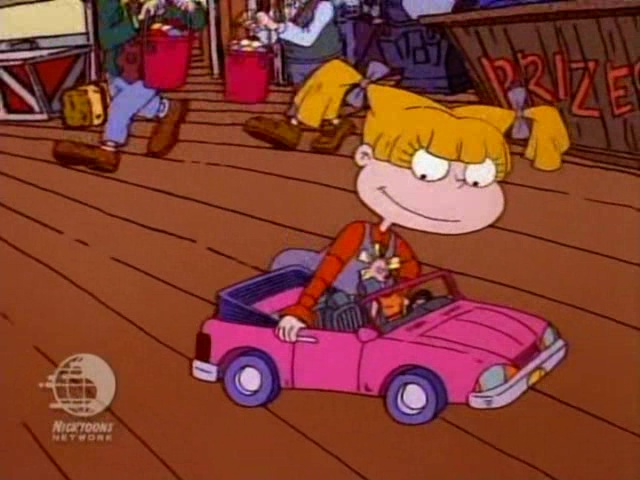 I like how for once, Angelica gets a happy ending, getting the Dream Car for her Cynthia doll. But Stu and Drew have to help clean up the mess of balls, but the babies are happy to see Angelica happy for a change.



Then the Piggy mascot comes up to the babies, limping and bandaged with his arm in a sling. I admire how dedicated he is to his job, still eager to say godobye to the kids after all that happened to him. He cheerfully says "Bye-bye, kiddies. Come back soon and visit your old pal Piggy!"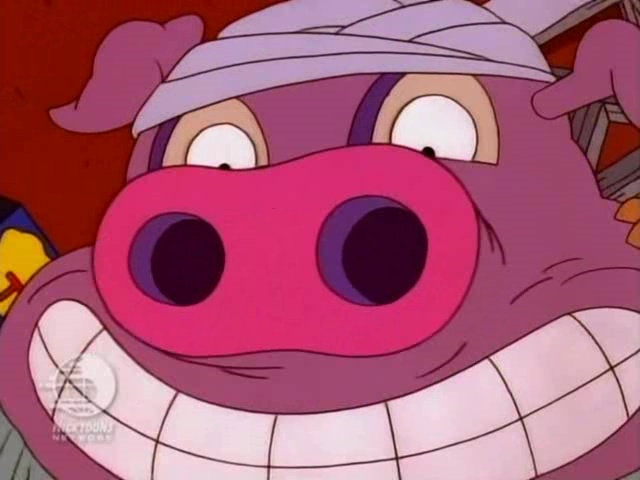 Then Piggy leans down close to the camera to do his trademark chuckling and snorting...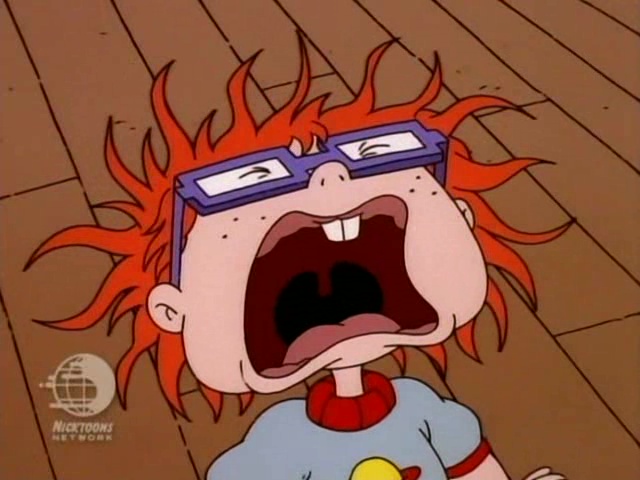 ...and Chuckie screams, and it zooms into his mouth and goes black, ending the episode. "Rugrats" has had MANY instances of zooming into a character's open mouth, but this one is my favorite, especially because Chuckie's scream sounds pretty funny here (not like how he usually screams.)


And there you have it! Chuck E. Cheese's done up in the Rugrats universe!
Yeah, I had to use the classic post editor for this one, since the new editor doesn't support DropBox functionality yet.