So today, since I had nothing else to do, I went on another excursion into Boston just for fun. It was rather drizzly out, but that didn't stop me.
I went back to the In Your Ear record shop again, where the owner now pretty much recognizes me! I got some more interesting stuff, from a "Gremlins" read-along book/record set (distributed by Disney/Buena Vista Records!) to even a 45-RPM single of Disney's "Beauty and the Beast"... the pop version! (the famous Celine Dion rendition) I was very surprised to see the song got released on vinyl record, as the movie came out in 1991 when CDs and tapes had pretty much surpassed records.
The owner also showed me his Scooby-Doo LP from Peter Pan Records: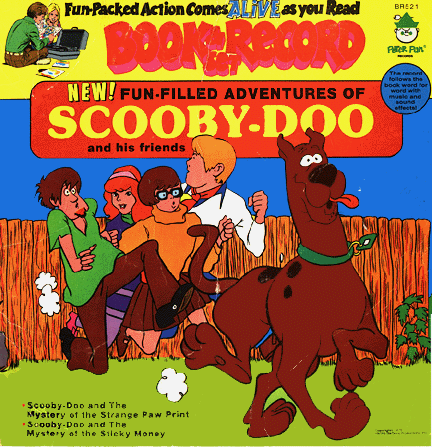 It had a really groovy rock theme, along with Don Messick reprising the role of Scooby-Doo, as well as many of the other same voices, except for Shaggy, whom had a pretty bad voice substitute! (he is NO Casey Kasem, or even Matthew Lillard!) It also doesn't have Hanna-Barbera's distinctive sound effects, probably because this was made by Peter Pan Records instead of H-B (though it's not as bad a case as "What's New Scooby-Doo!")
Hehe, I may need to find a copy of that for myself!