20 years ago today...
Posted on 2013.09.13 at 19:45
...on the FOX Kids network, a very influential and hilarious cartoon series premiered: Steven Spielberg's "Animaniacs!"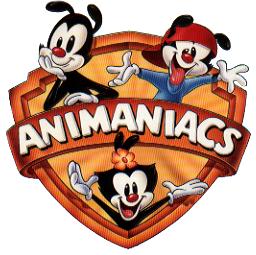 With Yakko Wakko and Dot, Pinky and the Brain, Slappy Squirrel, the Goodfeathers, Mindy and Buttons, Rita and Runt, the sexy Minerva Mink, and the rest of the cast (it was a VERY HUGE cast, I must add), along with genius writing akin to the classic Looney Tunes and "Rocky and Bullwinkle" combined, it made for one of my favorite childhood cartoons. This show parodied MANY things, from Hanna-Barbera cartoons to Disney's stuff of the period, "L.A. Law" to "Rugrats," Barney the Dinosaur to Dr. Seuss. (In fact, the very first episode even closed out with a parody of the classic children's book "Goodnight, Moon!") As a kid there would be some parodies I'd get (like the aforementioned "Goodnight, Moon" and Dr. Seuss spoofs), and some that'd blow right over my head, and there are even some bits I find funnier at a more mature age. The show was very intelligent with its writing and jokes, and the voice acting was great, particularly with Rob Paulsen (Yakko, Pinky, Dr. Scratch-n-sniff and others) and Tress MacNeille (Dot, Hello Nurse and others).
In fact, maybe once I start making my own fursuits, I will create one of the Animaniacs character Walter Wolf!
A former cartoon villain from the olden days and Slappy Squirrel's old arch-nemesis, he was in his 70s or 80s and he had some of the usual "old person" stereotypes (like when he'd do an evil laugh he'd then break out into an "old man" cough), along with having sort of a Yiddish accent that several found controversial.
Here is a music video someone made of the Animaniacs episode parodying Barney (here he's called Baloney the Dinosaur), set to the Tony Mason song "Barney's on Fire" (NOT by Weird Al!)
Oh, and while I'm on a similar subject, Scooby-Doo is 44 years old today! (That debuted on September 13, 1969, though.)