70 years of Tex Avery wolf goodness!
Posted on 2013.08.20 at 22:21
Current Music: "Li'l Red Riding Hood" by Sam the Sham and the Pharaohs (on a record player!)
Though it was a few months ago, this year marks the 70th anniversary of one of Tex Avery's all time classics: "RED HOT RIDING HOOD!"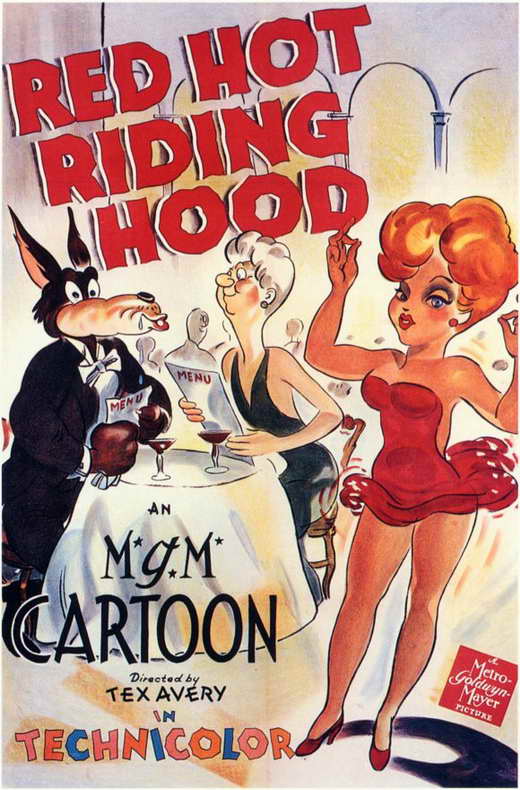 If you are familiar with Tex Avery, then you probably are familiar with this film. It starts out playing the story of Little Red Riding Hood straight, until the characters complain (I especially love the way the wolf angrily mocks the narrator, "Waiting in the woods was a mean old wolf ready to pounce on poor Red Riding Hood!") So they decide to give it a new twist. The Wolf is well-dressed and goes gaga over girls, Grandma is no longer sick and now man-crazy, and Red is of course the sexy nightclub singer.

Here is the famous sequence.

It was also the first cartoon to feature famous cartoon voice actor Daws Butler (Huckleberry Hound, Yogi Bear, Snagglepuss, Quick Draw McGraw, Peter Potamus, the Funky Phantom, Elroy Jetson, Scooby-Dum, Chilly Willy, the Honeymousers and many others) providing a voice of some kind - in case the Wolf's howling. (The wolf's normal voice was by Frank Graham, the Wolf's main voice actor during the 1940s, but Daws Butler would still go on to voice several other wolves anyways!)

However, this was NOT the wolf's debut. He first appeared in "Blitz Wolf" as the Adolf Hitler-esque wolf in a World War II-themed adaptation of the "Three Little Pigs," then as a foil for Droopy in his own debut cartoon, "Dumb Hounded."

The cartoon proved to be VERY popular when it was released. Audiences often wanted to see it again, so projectionists would rewind the film and re-play it for them. MGM even shipped copies of the cartoon overseas so the military out at war could watch, too! Yes, it was THAT popular.
But due to its content, it was banned from television for many years due to its content, until the 1990s at least. I remember seeing it on Cartoon Network a lot as a kid.

Let's just say it influenced a lot of the wolfish traits you see from me today. It actually influenced a LOT of the whole "toon wolves going nuts over the pretty girl" things we have seen over the years. From "Cool World"...


... to "The Mask!"


(In fact, earlier in the film, Stanley "The Mask" Ipkiss watches the cartoon in his apartment on a VHS tape!)

Plus, when I was a similar wolf at Boston Comic Con this year, one guy even called out, "Red Hot Riding Hood" seeing my getup!



In fact, according to an early script draft for "Who Framed Roger Rabbit," there was going to be a wolf (presumably the same one) lusting over Jessica Rabbit during her performance of "Why Don't You Do Right!" It's too bad that didn't make it to the final cut. Oh well, at least I could kinda fake it!
Felt like getting the word out :D