No real specific subject to this post... just some random stuff.
Yesterday I did have a little excitement at work. I started to go outside to clean up trash outside the back of the store, when I noticed (and smelled) some smoke coming through one of the bushes in the parking lot. Another associate that was on break said there was actually a small fire under the bush! So I rushed back inside to tell management, and one of them told me to fill one of the mop buckets with water. He told me to hurry, and that I could kind of run to the maintenance area since this was an emergency. So I did, and I filled up a bucket with water, hurried back over to the parking lot, and helped douse the fire. I was quite a big help here, and by the time I returned to the fire a few other associates had come out to see.
I figured the fire must have started when some smoker wound up igniting the mulch underneath the bush, and since mulch is flammable, well, you get the idea.
Currently, Brockton is under a boil water order, due to a pipe bursting yesterday morning. It's made washing up and brushing my teeth rather difficult, and it also affected quite a few business (a number of Dunkin' Donuts shops can't sell coffee due to this!) Fortunately we have plenty of spring water to drink. I am hoping things go back to normal tomorrow (Avon, where I work, is not affected by this, so I'm good there.
I also found out a couple years ago, there was a live stage show outside North America based off "The Looney Tunes Show!" It's called "The Looney Tunes Show Live"...
I don't know who that woman in black is supposed to be, but I do find it interesting how Granny and "Witch Lezah" are portrayed as "face characters." To fit with the show's unusual animation style, they had costumes made resembling the Looney Tunes characters drawn that way. IDK who made them, not sure if it was Scollon Productions.
The Road Runner is HUGE in this show. Though I do like how the Wile E. Coyote suit looks, it actually looks more like the classic version instead of his weird CGI redesign seen on the first season of the series.
Tweety and Speedy Gonzales are also portrayed by puppets, as they are small characters.
Still some pretty interesting stuff! Too bad it probably won't be appearing in the states, as the show is pretty much wrapped up (Cartoon Network even strategically removed it from their schedule among completing the show and replacing it with "Uncle Grandpa." Boo!) Though the upcoming "Rabbits Run" Looney Tunes made-for-video movie is going to be done in the style of this show...
I also got a neat LP album I bought off eBay: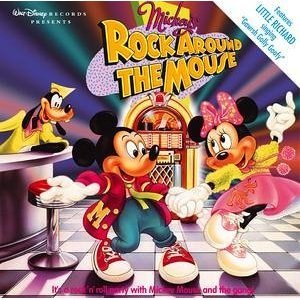 Yep, "Mickey's Rock Around the Mouse!" It was produced and released in 1987 by Disneyland Records (and one of the last releases on that label before they were renamed Walt Disney Records the following year), and features a bunch of songs done in a '50s rock-and-roll style, as during that time, '50s stuff was getting popular again (like those '50s diners, the "Little Shop of Horrors" musical, the music and songs used in "A Pup Named Scooby-Doo," etc.) We even get a track performed by Little Richard in a guest appearance: "Gawrsh Golly Goofy!"
Hey, even the Big Bad Wolf likes some good '50s music sometimes!
Maybe when I go to the Maltese Fur Con in August, I'll bring some of my fun records with me!