30 years ago on this day, Walt Disney Home Video kicked off their latest promotion: "Bring Disney Home For Good." One new release on that day was the first entry in the "Disney Sing-Along Songs" series!
Many an 80s and 90s kid saw or owned at least one of these. They would play songs from Disney movies or cartoons, and the lyrics would typically appear on the bottom of the screen, inviting the viewing audience to sing along. There were numerous other sing-along videos from different companies, some of different franchises or whatever (there were sing-along videos from companies like KidStuff, Golden Book Video, even Warner Home Video had a few!)
Prior to many of the great animated classics coming to home video, this was one way to see what some of them were like (such as was the case with "Snow White," "The Aristocats" and "Oliver & Company," even the unreleased "Song of the South!")
Here's the original intro, which utilizes footage from a couple of 1953 "stylized" Disney shorts: "Melody" and "Toot, Whistle, Plunk and Boom"...
Love those 80s synthesizers!
And yes, you did hear me say "Song of the South." The very first volume, released 30 years ago, included "Zip-a-Dee Doo Dah" on it...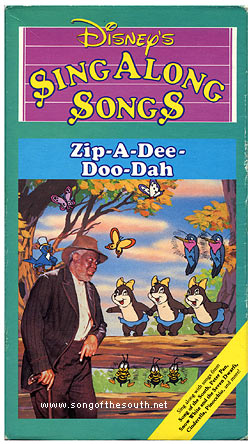 It was to tie in with the 40th anniversay celebration of "Song of the South" Disney was doing back then. Ironically, the complete film has NEVER been released on home video in North America due to Disney being too chicken to do so. (Come on Disney; it can be for historic purposes, AND it'll sell millions! Think of the high demand!)
One particularly interesting release was 1990's "Disneyland Fun," which consisted of new live-action footage of Disneyland's park characters (even including Roger Rabbit!) along with various Disney songs (both theme-park related, and from their various films.)
Since Halloween will be here soon, here's the "Grim Grinning Ghosts" number from that video. A certain long-tongued wolf makes an appearance in it too... ;)
Many of the titles are still available on DVD to this day (but not "Zip-a-Dee Doo Dah," not surprisingly...) so future generations can grow up with these, like I have.
Also, 30 years ago today marked the official debut of Walt Disney Home Video's new animated opening logo, featuring Mickey Mouse dressed in his Fantasia attire...
Another Disney staple of my childhood!
And Disney also released "Sleeping Beauty" on home video for the first time that day, to which it became the top-selling video title of 1986! But it didn't use that Disney logo I just posted; being in the Classics collection, it used this rather primitive opening logo introduced a couple years before...
Though I definitely remember seeing this logo before "Dumbo" and "Lady and the Tramp" as a kid.
And there's your Disney history tidbit for today!