Last night, we lost another one of the great cartoon voice actors. This time, it was Joe Alaskey. He passed away of cancer at age 63.
http://www.newsfromme.com/2016/02/03/joe-alaskey-r-p/
He was known for voicing Plucky Duck of "Tiny Toon Adventures"...
...and went on to voice many male Looney Tunes characters on various projects in the 90s and 2000s, including Daffy Duck, Bugs Bunny, Sylvester, Tweety, Marvin the Martian, and others, on shows such as "The Sylvester and Tweety Mysteries" and "Duck Dodgers," and on movies such as "Looney Tunes: Back in Action." Many feel that Joe was one of the best successors to Mel Blanc.
He even voiced Wile E. Coyote a couple of times, such as on the Tiny Toons episode "Psychic Fun-omenon Day"...
Yeah, I know he doesn't look right in this pic; blame Wang Film Productions in Taiwan for drawing him off-model :P
...and on one of those lame 2000s "Judge Granny" webtoons.
I will say, he was a bit closer to Mel Blanc than the new guy on "Wabbit" (J.P. Karliak) is, but not that much. (I think Kelsey Grammer might make a good Wile E. Coyote voice actor.)
One non-Warner voice I remember Joe was known for was voicing Grandpa Lou on the 1998-2004 "Rugrats" episodes, after the original voice, David Doyle, passed away in 1997.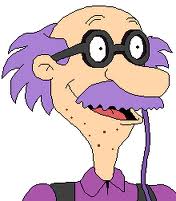 To be fair, Joe hasn't done any Warner Bros. voices for several years now; since 2010, Warner Bros. has had Bugs Bunny and Daffy Duck mainly voiced by Jeff Bergman, whom DID voice the two on "Tiny Toon Adventures."
And so we bid farewell to another great Warner Bros. Animation voice actor...